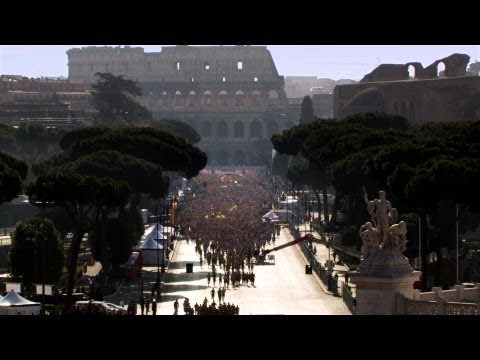 Modesto Marathon 5th Annual Movie & Wine Night
Mark your calendar now because you won't want to miss this year's Modesto Marathon Movie & Wine Night on Saturday, Feb. 22, 2014.
Not only will we be premiering the movie, Spirit of the Marathon II, in the Central Valley, but we will be hosting one of the inspirational runners from the film, veteran marathoner Julie Weiss, and producer Gwendolen Twist. Add to that our usual food and wine feast, silent auctions and drawings in the beautiful, historic State Theatre, and you've got one inspirational night, whether you run, walk or do neither.
In the five years that have passed since the first Spirit of the Marathon was released, the running world has changed dramatically. There are now more people running than ever before and endurance events are attracting ever growing numbers around the globe.
The filmmaking team had two main goals when making Spirit of the Marathon II. First, they wanted to tell more stories of people whose lives have been changed by running the marathon. In this film, the focus is on the runners and their personal journeys which have led them to take part in the Rome Marathon. Secondly, they sought to capture the international nature of the marathon and how its power affects all who run it.
Finally, with the inclusion of commentary by running luminaries such as Bill Rodgers, Kathrine Switzer, Frank Shorter and Haile Gebrselassie, Spirit of the Marathon II chronicles the continuing evolution of the marathon, its meaning to runners and greater impact on society.
Weiss' role in the film was just the beginning of her amazing journey. Weiss' father – her coach and biggest supporter — died of pancreatic cancer in 2010. That set in motion Weiss' determination to run a marathon a week for a full year to raise awareness of pancreatic cancer along with funds for research. The Rome Marathon was her first stop. (Read more on Weiss)
Producer Twist, also an avid runner, will bring her perspective on the creation of Spirit of the Marathon II.
Tickets can be purchased at the State Theatre. Adults $25. Under 21 $10.
2013 Movie Night Photos